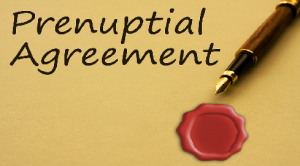 What is a Prenuptial Agreement?
A Prenuptial Agreement is a contract entered into prior to marriage, civil union or any other arrangement prior to the event by the people intending to marry or contract with each other. A prenuptial agreement establishes the property and financial rights of each spouse in the event of a divorce or termination of the contract.
Who Should Have A Prenuptial Agreement?
Any couple who brings personal or business assets to the marriage can benefit from a prenuptial agreement. The most basic of these contracts lists an inventory of premarital assets that in the event of a divorce will remain the property of their original owner.
When Should One Make A Prenuptial Agreement?
Create one when getting married or when moving in with a significant other, especially if purchasing property together.
It should be drawn up and signed well before the event. Do not wait until the last minute to present the prenuptial agreement–it can be considered coercive.
Each party should have their own attorney. There have been many prenuptial agreements disputed on the grounds that one party did not receive proper representation. The will should be updated at the same time to provide for children from a previous relationship or those born from this one.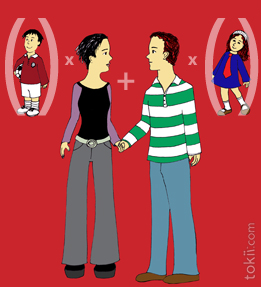 Why would a couple of modest means have a prenuptial agreement?
Pass separate property to children from prior marriages
Clarify financial rights, particularly after a change in financial status
Get protection from debts
What Questions Should be Addressed in the Agreement?
1. What property is held jointly and/or individually?
2. Who is responsible for paying off debt? Is debt in joint name? How can debt be repaid and what are the priorities in repayment of debt?
3. How are earnings allocated? Is there an inequity in how the parties spend or save earnings? Should there be an agreed upon percentage of earnings that each person is able to spend/save? Are both contributing to the family's income to the best of his or her ability?
4. What is the role of the spouse, if any, in a business now or in the future?
5. How should a business be disposed of in the event of divorce, disability or death?
6. What are your marital priorities for the future; are your goals to pay for a child's private school college education or to purchase a boat or to save for retirement? How are you going to implement these ideas?
7. How are monies divided in a blended family? How much support should be given to children from previous marriages? What are the ages and needs of the children? What monies should be used to pay for these needs? Are there children with "special needs?"
8. What happens if one spouse falls ill or becomes disabled? Have you considered purchasing long term health care insurance, disability insurance, have you executed a health care proxy or power of attorney?
9. What protection do you have in the event of one another's death? Do you have life insurance for the other; updated wills; considered estate planning?
What Property Should be Included in the Agreement?
1. All personal belongings at the beginning of the marriage, including jewelry, china, linens, and art.
2. Intangible assets (intellectual properties) that might possibly generate income in the future. This could include goodwill.
3. Financial assets such as stocks and bonds, savings accounts, annuities, and IRAs. Don't overlook the frequent flier miles!
4. Special family heirlooms and pets
5. Who gets the gardener, the cleaning service, and various personal assistants
Don't wait until the last minute! Contact Nordgren Law Offices today at (312) 558-9100 to get started.