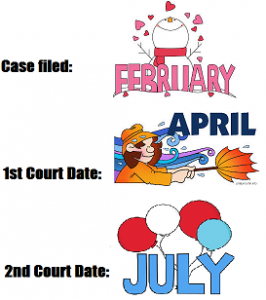 The Circuit Court of Cook County is one of the largest unified court systems in the United States — second only in size to the Superior Court of Los Angeles County.
More than 2.4 million cases are filed every year. As of December 2014, the court has 402 judges.
This means that your case is just one of many to the court system. There are many reasons for delays–here are some of the most common:
The judge wants to base his/her decision on evidence which is not available in court that day.
The other side may not be doing what the judge told them to do and that wastes a court date.
Lawyers and judges can get sick or take vacations.
The judge has other cases that were begun before your court case.
The lawyers may be covering more than one case and are in a different court room when the judge is ready so he tells them to come back another day.
There are steps that judges take to avoid a trial, such as conferences with the attorneys or sending the case to mediation which means the two sides have to come back another day.
Both sides have to present their case to the judge so the judge tells them to come back on a day when he has enough time to hold a trial, which may be more than a month away.
Using some of the Alternative Dispute Resolution processes reduces the amount of court time, which may speed things up.