Complete Information about Traffic Court is available at the Traffic Court Website.
How do I know if I have to go to Traffic Court?
A ticket marked "YOU MUST APPEAR" or "COURT APPEARANCE REQUIRED" is issued for a violation for which the violator must appear in court on the date and time indicated. Tickets do not all look the same (see examples)–check your ticket carefully.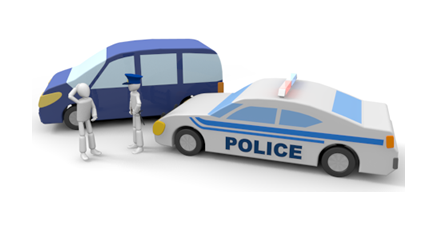 Why do I have to appear in Traffic Court?
The Illinois Supreme Court requires individuals cited for violations which create a great potential for harm or carry mandatory minimum penalties to appear in court to answer the charges.

Can they send me to jail because of a Traffic Ticket?
Traffic violations requiring a court appearance are distinguished in the following way: those for which the only punishment on conviction is a fine (petty offenses) and those for which the punishment on conviction can be a jail sentence. Traffic violations that can result in a jail sentence are known as misdemeanors.
Persons charged with such offenses should consult an attorney immediately. Even if they have to pay only fine, a judgment of guilty results in a criminal record which can never be expunged.

What Traffic Violations are Petty Offenses (NOT Misdemeanors)?
The following is a partial list.
failing to secure a child in a moving vehicle
driving without a valid license or permit
driving an uninsured vehicle
passing a school bus while loading children
speeding in excess of 20 mph but not over 26 mph over limit
speeding in school zone when children are present
speeding in construction zone when workers are present
violation of cruising zones
using an alley as a through street in violation of signs
failing to yield to an emergency vehicle
What Traffic Violations are Misdemeanors?
driving under the influence (DUI)
driving on a suspended or revoked license
speeding 26 mph or more in excess of the limit
drag racing
reckless driving
leaving the scene of a property damage accident
fleeing or attempting to elude the police
driving a commercial vehicle while license is suspended, revoked or driver has been placed out of service
any other Class A or Class B misdemeanor
What will happen in court on my court date for a Petty Offense?
Your trial will be held on that date. Moving the trial to another date (getting a continuance) will happen only if there is a very good cause.
Do I need an Attorney for court for a Petty Offense?
No.

What will happen in court on my court date for a Misdemeanor?
The initial court date for a traffic violation classified as misdemeanor is an arraignment date. This is not a trial date. The trial date will be set at the arraignment.
Do I need an Attorney for court for a Misdemeanor?
Yes. Persons charged with a misdemeanor should appear in court with an attorney. Illinois Law requires that you have an attorney to defend you if you could go to jail if convicted.