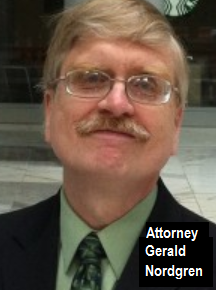 Email: [email protected]
Attorney Gerald Nordgren was born and raised in Chicago, Illinois. After graduating with honors from the University of Illinois, he graduated from Northwestern University Law School and was admitted to the Illinois Bar in 1979 and the Federal Trial Bar in 1983.
Gerald P. Nordgren has advocated for thousands of clients since 1979. As a battle-tested, passionate and empathetic attorney, he is able to bring a wealth of information and expertise to you on your particular law issue. He is a skilled litigator, and has developed a reputation among many judges, as a strong advocate, who can be trusted to clearly communicate the truth concerning a particular case. He also has considerable negotiation experience, including teaching at multiple law schools.
Call (312) 558-9100 for a free phone consultation.
In 1983, Mr. Nordgren co-founded the Austin Christian Law Center (ACLC) and served as the Director of Legal Services there until 1988. He has served as an adjunct instructor at DePaul and Northern Illinois law schools, as well as a full-time Supervising Attorney at the DePaul Legal Clinic from 1990 to 1994. In 1995, Mr. Nordgren began his service with the Austin Circle Law Center of Chicago Legal Clinic, Inc., as the Director of Legal Services, then as a Supervising Attorney, until 2009. In 1998,
Mr. Nordgren was also appointed Special Commissioner for the United States District Court for the Northern District of Illinois. Since 2007, he has often been appointed to serve as a Special Representative in Foreclosure Court. Since 1986, Mr. Nordgren has served as Guardian ad Litem and Children's Representative in Domestic Relations Court
Mr. Nordgren has been humbly honored to receive several awards and participate in several memberships during his service as an attorney, including:.
Christian Legal Society, Christian Legal Aid Staff Award, 2005
National Litigation Academy Honor Corps, Member, 2006
Christian Legal Society, since 1977 (Member of the Legal Aid Committee and Public Ministries Committee)
Chicago Bar Association, since 1980
Illinois State Bar Association, since 1979
West Suburban Bar Association, since 1989
He has been successful in resolving problems and disputes that other attorneys with less experience would not have been able to resolve. When seeking advice, you need a professional with experience and a practice devoted to your problem.
Mr. Nordgren and his wife, Nancy, have been married for over 40 years. They have a daughter, Rachel, and a son, Caleb. Mr. Nordgren and his family are deeply involved in their church where he is an elder.
Call (312) 558-9100 so he can start working on your case.